About & Methods

Randy Bird exudes a quiet confidence. One that doesn't need any boisterous antics to back up his knowledge. This longtime horseman has his roots firmly planted in hard work and horses, competing in barrel racing and working with standardbreds in his youth. Many an eye noticed this talented young man and questioned if he could make their horses as calm and responsive as the ones he was already training.

When Randy met Australian horseman Alan Barber in '86, Barber imparted to him the training knowledge of the legendary J.D. Wilton. A trip to Australia with Barber and a load of horses in tow changed his way of thinking and ultimately his life. "When I saw what they were able to do with a horse, I realized that this was what I wanted to do with my life and that if I couldn't do the same, I would never be happy in the horse business again," says Randy. "I have been using and adapting these methods to my needs in educating riding and driving horses ever since".


The year 1998 saw Randy give a clinic in Michigan on preparing coach horses. A warm reception turned into a steady influx of carriage horses making their way to his Harwood, Ontario training facility. Randy now boasts an impressive client list spanning Canada and the United States, extending to both riding and driving.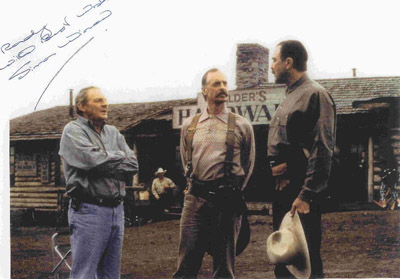 (Simon Wincer on set with Keith Carradine and Tom Selleck)
Movie producer / director Simon Wincer says

"Quiet man, quiet horse is the credo by which Randy Bird works. His extraordinary ability to win a horse's trust and confidence has to be seen to be believed. It seems so right, so obvious and so perfect. I wish I had witnessed his method years ago! I have been around horses all my life, as well as producing and directing many major horse and animal movies including Man from Snowy River, Pharlap, Lonesome Dove, Free Willy, The Light Horsemen and Operation Dumbo Drop. It is so satisfying to watch someone who can communicate so clearly and calmly with an animal. And that is something all great trainers have in common! Don't miss the chance to see Randy work. It is awe inspiring".


Randy has noticed a renewal in the art of carriage driving and explains that as horse people get older they begin to look for fun and safe ways to stay involved in the equine community. Driving fits the bill as it allows the entire family to be involved from children to grandparents. A safe carriage ride along a country road can be the perfect family get together. Because driving places a whole new set of demands on the horse as opposed to riding, the horse has to be more trusting of its handler and confident in its job. "I want all the horses coming out of here to not only calmly accept the cart or coach, but also to move out with complete trust no matter what the situation," says Randy. "We make every effort to ensure that the horses are not only ready for these experiences but that the experiences will be safe, fun and enjoyable for horse and handler".

Several training spots are currently available for any breed at Randy Bird Equine Education for riding or driving training. Please contact Randy for more information by calling (905) 342 - 3053 or sending an email to randy@randybird.ca.

The year 2011 marks an exciting chapter in Randy Bird's career with the world premiere of the film "Saving the Mustang" which documents Randy's efforts to help save several Wyoming Mustangs. This film has already aired on the PET Network on television. Find out more info about our Mustangs including air dates and events, please visit our Mustang page.


Services
"

Now accepting horses for training for 2018!

"
We are located in Harwood, Ontario, Canada and nestled in the rolling hills of Northumberland County just a stones throw from Rice Lake. Randy Bird Equine Education offers a full range of services for your equine partner, whether looking to expand you or your horses training in either riding or driving.


Riding or driving training
- Rates are $47.00 CDN per day with a 60 day minimum for riding or driving. Includes full board.
- Contact Randy by calling (905) 342 - 3053, (905) 342 - 5557 or
sending an email
.
- "Randy Bird Equine Solutions" is a one on one workshop with both horse and owner to teach them how to help solve any issues they have encountered. Randy and his team will help make both you and your horses life better by becoming more safe and effective. This program is run at our farm.
- Come for an hour, a day or a week - there is easy access to lodging and entertainment to help ensure your stay is enjoyable.
- The fee for this is $50.00 CDN per hour Monday to Friday and $75.00 CDN per hour on weekends. Stabling is also available at an extra $15.00 CDN per day. Reservations must be made ahead of time by telephone. Call us at (905) 342 - 3053 or (905) 342 - 5557.



Public demonstrations & appearances


- He's a crowd pleaser and gives audiences young and old a fun and educational experience.
- Randy Bird has appeared at agricultural fairs and equine expos across the US and Canada including Can-Am, the All About Horses show in Lindsay, Autofest Oshawa, the Columbia Grand Prix in Columbia Maryland and the Royal Agricultural Winter Fair in Toronto.
- Contact Randy by calling (905) 342 - 3053, (905) 342 - 5557 or sending an email.

Additional services
- Buying a horse? Finding the right one can be a difficult task. Let Randy Bird Equine Education take the worry out of this for you. After helping you find your new horse, we can also providing riding and / or driving training. There will be a price agreed upon by both parties for this service before the actual purchase of the horse.
- Driving lessons: Randy Bird now offers a limited amount of driving lessons. Randy has trained driving horses for coaching, racing, showing, combined driving and pleasure driving. This is a wonderful opportunity to gain some knowledge from one of the best. Lessons are $75.00 CDN and run one hour in length.

Featured Grads & Testimonials


Above left: "

We are so grateful for Randy and his work with Lindo. He changed our lives. He was the first professional who believed in our pony and always backed us up. Lindo has far surpassed our expectations

". - Kay, Ava & Lindo

Above right: "

Hello Randy... Thank you for salvaging Romano for me! Your skill and horsemanship are greatly appreciated! Here we are at the Debbie McDonald clinic last October... your friend, Gina Bush

"



These horses belong to Frolic Weymouth of ChaddsFord Pennsylvania. The two leaders are Alush and True and were with us for training during the spring and summer of 2001. Says Frolic, "

Randy, the best money I've ever spent! All continues to be amazing and great. So many, many thanks. Was wonderful meeting you

".